Let's be honest: it's been a hard few years. This is why we need your support now, more than ever.
Room is Canada's oldest feminist literary journal, and has published fiction, poetry, creative nonfiction, art, interviews, and book reviews for over forty years. Published quarterly by the West Coast Feminist Literary Magazine Society, also known as the Growing Room Collective, Room showcases writing and art by people of all marginalized genders. Members of the collective, located in various parts of so-called Canada, volunteer thousands of hours each year because they believe in a place for writers and artists that are on the margins. There has never been a more critical time for the promotion and engagement of writing by cis and trans women, Two-Spirit people, non-binary people, and trans men, and the truth is: we can't do it without you.
We believe in publishing emerging writers alongside established authors, and because of this, approximately 90% of the work we publish comes from unsolicited submissions or contest entries. This means that while we have enough funding to keep our boat afloat, there are still a few leaks that need patching. Our work is impossible without the generosity of our funders, donors, subscribers, RoomMates, community members, and readers. In 2025, we will be celebrating 50 years of Room: but we can't make it there without your support.
This Giving Tuesday, we hope we can count on you to to make a contribution, however big or small, to help keep Room running. The good news is that there are lots of ways to do just that!
—-
Become a RoomMate
With six membership tiers ranging from $1–$50, there's something for every potential RoomMate! RoomMate contributions go toward paying writers and artists for their work in our magazine, on our blog, and at our events, as well as allowing us to support the wellbeing of the Growing Room editorial collective. Room is home to the Indigenous Brilliance podcast, which spotlights brilliance from Indigenous women, Two-Spirit, and Indigiqueer artists, and to Art Ecosystem, a Black and Indigenous led artistic learning space. Your support also helps us keep hosting knowledge-sharing events, issue launches, our mentor-in-residence program, and writing workshops. In return, you'll get exclusive content, like themed writing prompts, playlists, early bird access to Room event tickets, stickers, merch, and more!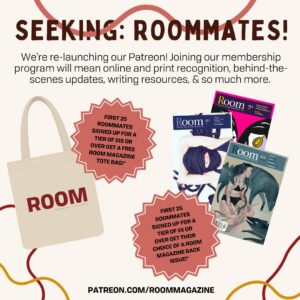 Sign up for a subscription
Purchase a one-year, four-issue subscription to Room Magazine! Room is Canada's oldest feminist literary journal, and has published fiction, poetry, creative nonfiction, art, interviews, and book reviews for forty years. Works that originally appeared in Room have been anthologized in The Journey Prize Anthology, Best Canadian Poetry, Best Canadian Stories, and Best Canadian Essays, and have been nominated for National Magazine Awards.

Make a one-time donation to Room
As a non-profit organization, all the revenue we make goes right back into our mission. Room is an incubator for new creators and an explorative space for emerging and established artists to grow.
Since the beginning, we have published over 2000 women writers in over forty volumes. Amber Dawn, Nalo Hopkinson, Miriam Toews, Shani Mootoo, Evelyn Lau, Hiromi Goto, Marie Annharte Baker, Jane Urquhart, and Sharon Butala are just a few of the well-known writers we have included in the pages of Room, and we are also committed to discovering and supporting emerging writers. Although we are unable to offer you a tax receipt, we can promise plenty of cultural karma. And to show our appreciation, we'll also publish donors' names.
We know you love Room as much as we do. This way, you can support Room directly via PayPal. Choose to make a one-time donation, or set up a recurring monthly donation: whatever feels best to you.
Donate to Room
Support us online: no money needed!
Hey, we get it, being a human is expensive these days. If donating money is not in your budget right now, we would love if you could follow us on Instagram, Facebook, and Twitter, subscribe to our newsletter, and share our posts and updates in your feeds. Even just having you engaging with our content means so much to us, and goes further than you know. This, too, is a way of giving!
—-
No matter what you choose, we hope you know how much your support means to us. It is because of donors, readers, and community members like you that we are able to pay our contributors, run our contests, and put out issue after issue chock full of beautiful, feminist writing and art during a time that so desperately needs it. It is because of donors like you that we have been able to do this work for nearly 50 years: we hope to keep doing it for 50 more.