Cart
Your cart is currently empty.
Currently in Newstands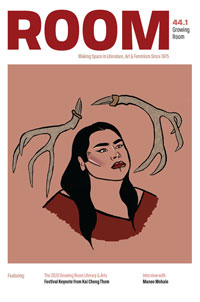 ROOM 44.1, Growing Room
Edited by Jessica Johns
In This Issue: Afuwa, Amber Dawn, Manahil Bandukwala, Adèle Barclay, Bronwyn Berg, Karmella Cen Benedito De Barros, Cassandra Blanchard, Selina Boan, Tanya Boteju, Francine Cunningham, Jen Currin, Annahid Dashtgard, Dina Del Bucchia
Rebecca Fisseha, Chantal Gibson, Soo Jeong, Aisha Sasha John, Eve Joseph, Fiona Tinwei Lam, Corinne Manning, Domenica Martinello, Tash McAdam, Lucia Misch, Maneo Mohale, Shani Mootoo, Alessandra Naccarato, April dela Noche Milne, Kat Norris, Otoniya J Okot Bitek, Sharon Pink, Hazel Jane Plante, Amal Rana, Rebecca Salazar, Alisha Sian, jaye simpson, Mallory Tater, Kai Cheng Thom, Cheryl Thompson, Erika Thorkelson, Rhea Tregebov, Addie Tsai, Arielle Twist, beni xiao, Adrienne Yeung
Join us on Patreon
Become a RoomMate!
Announcing Room's New Membership Program
Seeking: RoomMates who love literature, events, merchandise, and supporting marginalized creators!

Advertisement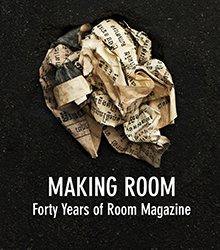 Subscribe to our newsletter
Be the first to know about contests, calls for submissions, upcoming events.