Cart
Your cart is currently empty.
Pre-order Our Next Issue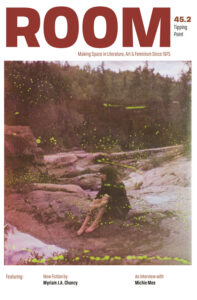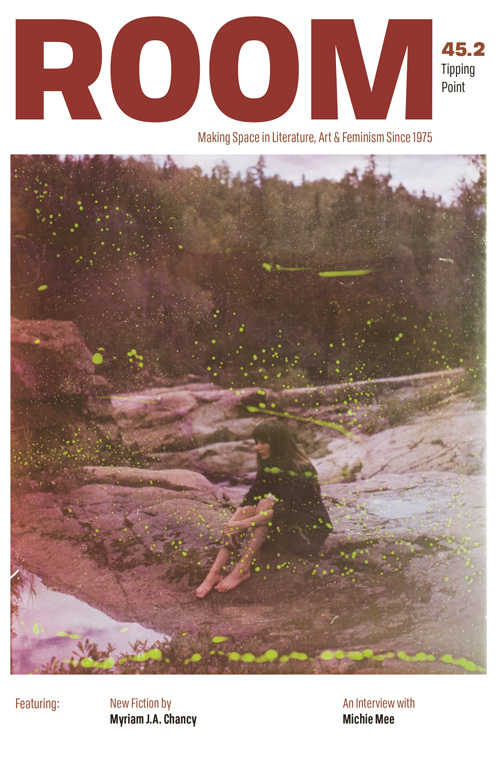 ROOM 45.2 TIPPING POINT
Edited by Lue Palmer
Assistant Edited by Micah Killjoy
Shadow Edited by Ruchika Gothoskar and Omi Rodney
In This Issue: Eberechukwu Peace Akadinma, N.B., Manahil Bandukwala, Chief Lady Bird, Myriam J.A. Chancy, .chisaraokwu., Michelle Contant, Morgan Cross, Jaki Eisman, Ava Fathi, Maria Ford, Jennifer A. Goddard, Michelle Good, Ruchika Gothoskar, Jonsaba Jabbi, Sneha Subramanian Kanta, Micah Killjoy, Moe Kirkpatrick, Lydia Kwa, Margo LaPierre, karen lee, Lynn Hutchinson Lee, Y.S. Lee, Annick MacAskill, Kama La Mackerel, Sarah McPherson, Michie Mee, Zoë Mills, Lue Palmer, Emily Riddle, Alana Rigby, Omi Rodney, Edythe Rodriguez, Victoria Spence Naik, Unimke Ugbong, Nadia Van, semillites hernandez velasco, Dr. Njoki Wane, Yilin Wang, Jenny Heijun Wills, Lacey Yong, Dr. Rachel Zellars, Zhang Qiaohui
Currently on Newsstands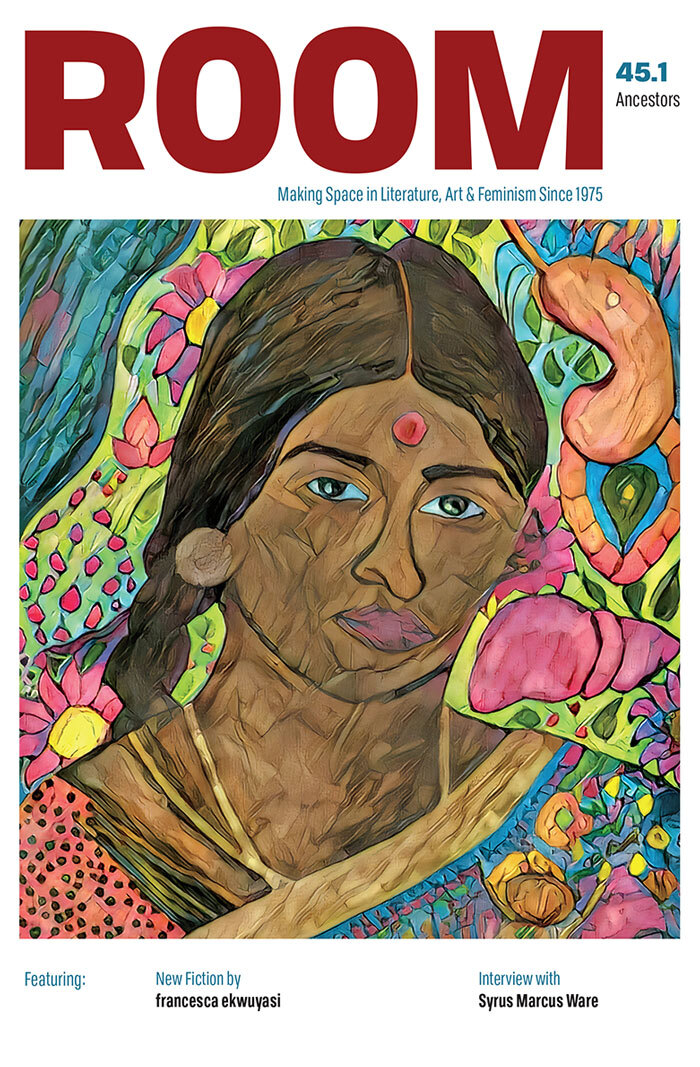 ROOM 45.1, Ancestors
Edited by Serena Lukas Bhandar
In This Issue: Yasmine Ameli, Manahil Bandukwala, Elena Bentley, Meagan Berlin, Serena Lukas Bhandar, Emily Chan, Kathy Crabbe, Asheda Dwyer, francesca ekwuyasi, Mercedes Eng, Lucy Zi Wei Fang, Juliette Blake Jacob, Jessica Jane Khuu, Melissa Kuipers, Holly Lam, Arshiya Malik, Samantha Martin-Bird, Victoria Mbabazi, Nicole Nanayaa M'Carthy, Erin McGregor, Kristin Michelle, Zamina Mithani, Haley Montgomery, Mridula Morgan, Tiffany Morris, Madalyn Murray, Sofia Navarro, Faith Paré, Leah Lakshmi Piepzna-Samarasinha, Maryam Rafiee, Deepa Rajagopalan, Remy Ramirez, Romila, Trish Salah, Jane Shi, jessica ainsli todd, Sara Truuvert, Maneesa Veeravel, Anne Walk, Syrus Marcus Ware, Adrienne Weiss, Evelyn C. White
Join us on Patreon
Become a RoomMate!
Announcing Room's New Membership Program
Seeking: RoomMates who love literature, events, merchandise, and supporting marginalized creators!

Advertisement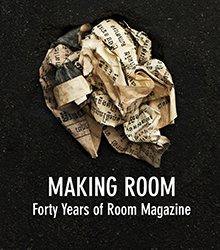 Subscribe to our newsletter
Be the first to know about contests, calls for submissions, upcoming events.