The Vancouver Writers Festival is once again taking place this October on the shared territories of the xʷməθkwəy̓əm, Skwxwú7mesh, and səlilwətaɬ nations. From October 16th to 22nd, the 36th Annual Festival will celebrate the writing of over 125 authors at 85 different events.
In advance of her appearances at the upcoming Festival, Room spoke with writer Helen Knott who is a Dane Zaa, Nehiyaw, Métis, and mixed Euro-descent woman living in Treaty 8 territory in Fort St. John, British Columbia. Her bestselling debut memoir, In My Own Moccasins: A Memoir of Resilience, wowed reviewers, award juries, and readers alike. With the publication of her second memoir, Becoming a Matriarch, Helen has firmly cemented her place as one of the most remarkable voices in contemporary Indigenous literature.
________

ROOM: Becoming a Matriarch is this wonderful continuation from your first book, In My Own Moccasins. In what ways was Becoming a Matriarch a natural progression from your last book? In what ways was it not?
Helen Knott: Initially I wasn't going to write this book. I wanted to write a different book . . . and then I lost Mom, and I didn't know what I was going to be writing for some time. I started writing again more out of survival and necessity and it evolved into Becoming a Matriarch. For me, that was a pathway forward in my grief.
ROOM: Becoming a Matriarch is about place: your place in your family system; your place in your community; your place as a mother, friend, partner. It's also about physical place and how our bodies are tied to the places we come from. One of my favourite lines from Becoming a Matriarch is "If no water, mountains, or medicines know my name, did I ever have a name at all?" Why was it important for you to write about physical place in this book?
HK: For me, I'm shaped by where I come from. I often wonder how place influences the way that we as Indigenous peoples interact with each other and come to know and understand the world. When I ask someone "Where are you from?" I'm trying to figure out what has shaped them because I know for me the north is how I understand myself in the world.
There was this moment a few months after my mom had passed that I went into the river valley with my brother, and I could see the sun setting. And because of the sunset, I knew the promise of summer because I know what it's like to live where winter is the dominant season. And because I know the rivers here, I know that the rivers will hold my pain in the soil. I know that I can make it through this. To exist in a way without those things . . . I don't know who I am.
ROOM: Your book isn't told in chronological order. Other than the initial pages that start with a history of where you come from—which is integral to how we exist and introduce ourselves as Indigenous people—it doesn't follow the usual memoir style of discussing events in the order they occurred. Can you speak about why you decided to tell your story in a non-linear format? Was it a conscious decision?
HK: I knew that I wanted more freedom than following a linear structure; I feel frustration when I have to follow something that is specifically linear. That's why I also added in the interludes [into the book] because it gave me more creative freedom to write wherever and whenever I want. When you're writing something like memoir, it also demands of you to be able to sit with story and evolve. Sometimes story visits later, and that's when the growth occurs. It caused me to reach backwards and pull things to future moments to make sense of them.
ROOM: Speaking of freedom in writing, early on in Becoming a Matriarch you expressed that the English language sometimes feels constricting. In particular, when writing about familial relations, you note that "The English language creates distance between us all." In a book that is so much about relationships—with family, community, romantic partners, friends—were there any parts of Becoming a Matriarch that you struggled to portray authentically? How did you overcome that?
HK: I felt the absence of my own language to be able to understand what I was going through and felt a yearning for. The knowledge of how we would frame it in Dane Ẕaa and not having my grandma to turn to and ask, "How would I say this? What does this look like?" It's this knowledge of absence that I also describe as a phantom ache; of longing for things that were once ours and knowing that there are words or a description that would better provide a framework of understanding.
ROOM: I wanted to also talk about the word matriarchy and what it means in our present-day context. Often, when we think of matriarchs, we assign them positive traits: strong, powerful, courageous. However, Becoming a Matriarch also speaks to the traumatic legacy or the harmful patterns that can be passed down from matriarch to matriarch. Can you share why it was important for you to write about this lesser discussed side of matriarchy?
HK: I think it's important to understand how matriarchy was never just standalone and that it worked within a system where there were other relationships that contributed to the overall wellness of families, communities, and nations. When elements of that break down—and individuals are still holding and carrying and fixing and loving and nurturing without the rest of the system in place—that's when things often start to go awry.
And through generations having to survive through harsh circumstances due to colonialism, racism, and violence, the way that we as Indigenous women have learned to hold our families together and to raise our children has been impacted by that. For me, it was important to understand the legacy of love that I came from, but also what has been negative in that experience, or a learned behavior, or something that has evolved over time out of a hard environment. I do my best to smooth that out in myself.
What I teach my son and what I role model for younger relatives and other women that I come in contact with is that matriarchy can be fierce and loving and full of leadership. But why can't it also be full of joy and softness? That part was never role modelled to me because when you live in conditions that are threatening to kill and erase you, there is not a lot of room for softness. That's something that I'm learning to reclaim for myself.
ROOM: Another one of my favourite lines from Becoming a Matriarch is "Everything that I am is a story." The most literal meaning of this line refers to how you have written and published two books within the last four years. However, I'd like to know—writing or otherwise—where is your story taking you next?
HK: I believe that it's taking me toward a lot of soft moments and a lot of joy. I've been thinking about what I want to speak about and what I want to focus my work on. I find that there was so much of my life that was characterized by violence, whether it was healing from it or speaking about it or learning about it or writing about it. I'm still settling into this new unchartered space for myself where it's about happiness and simplicity.
ROOM: Before we end our interview, can you tell me about your upcoming events at the Vancouver Writers Festival and what you're hoping attendees will be able to take away from these panels?
HK: I'm looking forward to being in relationship with people in different places and having the ability to have real moments with individuals. I'm hoping that in whatever panel or space I'm speaking in that there is something there for whoever came.
_______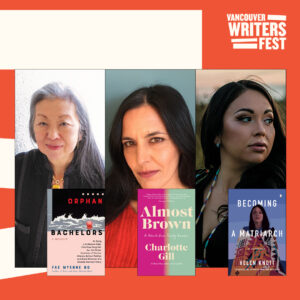 Oct 20, 2023, Memoirs of Belonging
These three authors have led remarkable lives, and their memoirs are enveloping tapestries of storytelling about family and belonging. Bestselling author and PEN/Faulkner Finalist Fae Myenne Ng (Orphan Bachelors), award-winning Canadian author Charlotte Gill (Almost Brown), and national bestseller Helen Knott (Becoming a Matriarch), each speak to ties across generations, the complexity of identity in the face of historic ills and colonialism, as well as the process of piecing these often-intangible frameworks of our lives on paper. Moderated by Anna Ling Kaye.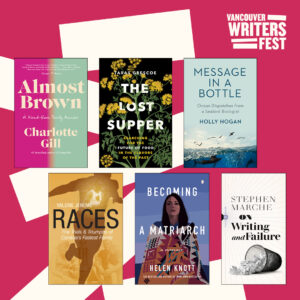 October 22, 2023, Food for Thought
A revitalized take on our Sunday Brunch, Food for Thought presents six authors exploring topics at the forefront of our minds. Charlotte Gill (Almost Brown) fearlessly examines the complexities of life within a multicultural household. Holly Hogan is a wildlife biologist who brings a warning of the devastating effect we're having on the ocean in Message in a Bottle. In Races, Valerie Jerome sets the record straight on her heroic family's history and the racism they fought along the way. Helen Knott gets straight to the heart of what matriarchy truly means in Becoming a Matriarch. Stephen Marche offers pithy, witty guidance on the craft we love in On Writing and Failure. And Taras Grescoe's The Lost Supperis an exciting and globe-trotting account of ancient cuisines, in the tradition of Michael Pollan, Anthony Bourdain, and Mark Bittman. Guests will also enjoy a continental breakfast of croissant, fruit and yogurt, tea and coffee, and our signature mimosas. Moderated by Kathryn Gretsinger.