Stories hold the incredible power to heal wounds, connect people, and bridge generations. This is an incredibly important time to be centering the brilliance of our communities through Indigenous storytelling across diverse mediums. The Indigenous Brilliance Podcast is an important project of the larger Indigenous Brilliance Collective, and features innovative and exciting episodes, highlighting the multi-disciplinary voices of Indigenous women, Two-Spirit, and Indigiqueer artists as we discuss cultural resurgence in Indigenous arts. 
Hosted by creatives jaye simpson and Karmella Benedito De Barros, the Indigenous Brilliance Podcast carves out space for the celebration and witnessing of this beautifully visionary community.
Tune into our first archival episode for some highlights from our Indigenous Brilliance LIVE READING at Massy Books (June 21st, 2019)! This event was hosted by the wonderful jaye simpson and Emily Dundas Oke, and features readings by Cassandra Blanchard, Mackenzie Ground, Evan Ducharme, and Savannah Erasmus. 
Thank you so much to CJSF Radio for recording and supporting the production of this archival material. We hope you enjoy it! 
Music by Edzi'u and cover art by Sylvey Sampson <3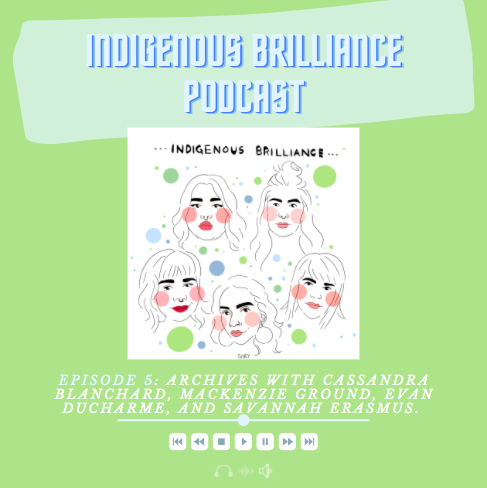 Time Stamps: 
0:00 – 1:48 Intro 
1:49 – 9:41 LIVE opening from jaye and Emily 
9:41 – 13:15 Cassandra Blanchard 
14:15 – 20:08 Mackenzie Ground 
22:48 – 33:11 Evan Ducharme
34:32 – 45:28 Savannah Erasmus
45:46 – 46:32 Close  
[Audio transcription coming soon]