Check out the Indigenous Brilliance Podcast here, and listen to Season 2 Episode 2: Futurism and Cyber Gardening
The Indigenous Brilliance Collective and Art Ecosystem have come together to create season two of the Indigenous Brilliance Podcast.
"Cyberspace can be a tool for saving and planting seeds of futurisms… of carrying the pasts forwards in a good way."
In Episode 2: Futurism and Cyber Gardening, co-hosts Karmella Benedito De Barros and Lexi Mellish Mingo chat with Whitney French of Hush Harbour Press about the concept of cyber gardening and creating connections and community both online and offline. Taking inspiration from Black and Indigenous folks across Turtle Island—including the always relevant Octavia Butler—Karmella, Lexi, and Whitney also discuss futurisms for QTBIPOC and how online spaces can help create new futures.
Building off the topics of seed saving, growth and gardening as tools and metaphor… we hope this episode serves as an invitation led by Black and Indigenous femmes, offering a space for us all to dream and imagine what it might mean to ground and create new futures in/out of online spaces.
Check out season 2 episode 2! Transcription below. 
About your hosts:
Lexi Mellish Mingo is a multi-disciplinary artist living and creating on the unceded and unsurrendered territories of the Tsleil-Waututh, Squamish, and Musqueam Nations. Descending from both Afro-Guyanese, English and Scottish ancestry, her work is inspired by the complexity of diasporic experiences, and the process of place making, through community collaboration and dialogue.
Karmella Benedito De Barros is an inner-city Indigiqueer with Mistawasis Treaty 6 and Afro-Brazilian ancestry. They are a Multidisciplinary Artist and Community Worker born and raised in diaspora as a guest on the unceded Squamish, Tsleil-Waututh, and Musqueam territories. Karmella currently co-leads the BIPOC Art Ecosystem project, and is the Indigenous Brilliance Community Engagement leader. They also support Earthseed: a Parable of the Sower Book Club with the Lucid Arts Collective.
Mentioned in the episode: 
Hush Harbour Press – https://www.hushharbour.com/
Parables of the Sower by Octavia Butler – https://storestock.massybooks.com/item/1iqMaW6srnNKGES-Mqe_rw
Article "The Seeds of Survival" by Michael Tortorello – https://www.nytimes.com/2012/06/14/garden/juneteenth-gardens-planting-the-seeds-of-survival.html
@Thinking Abolition – https://www.instagram.com/thinkingabolition/?hl=en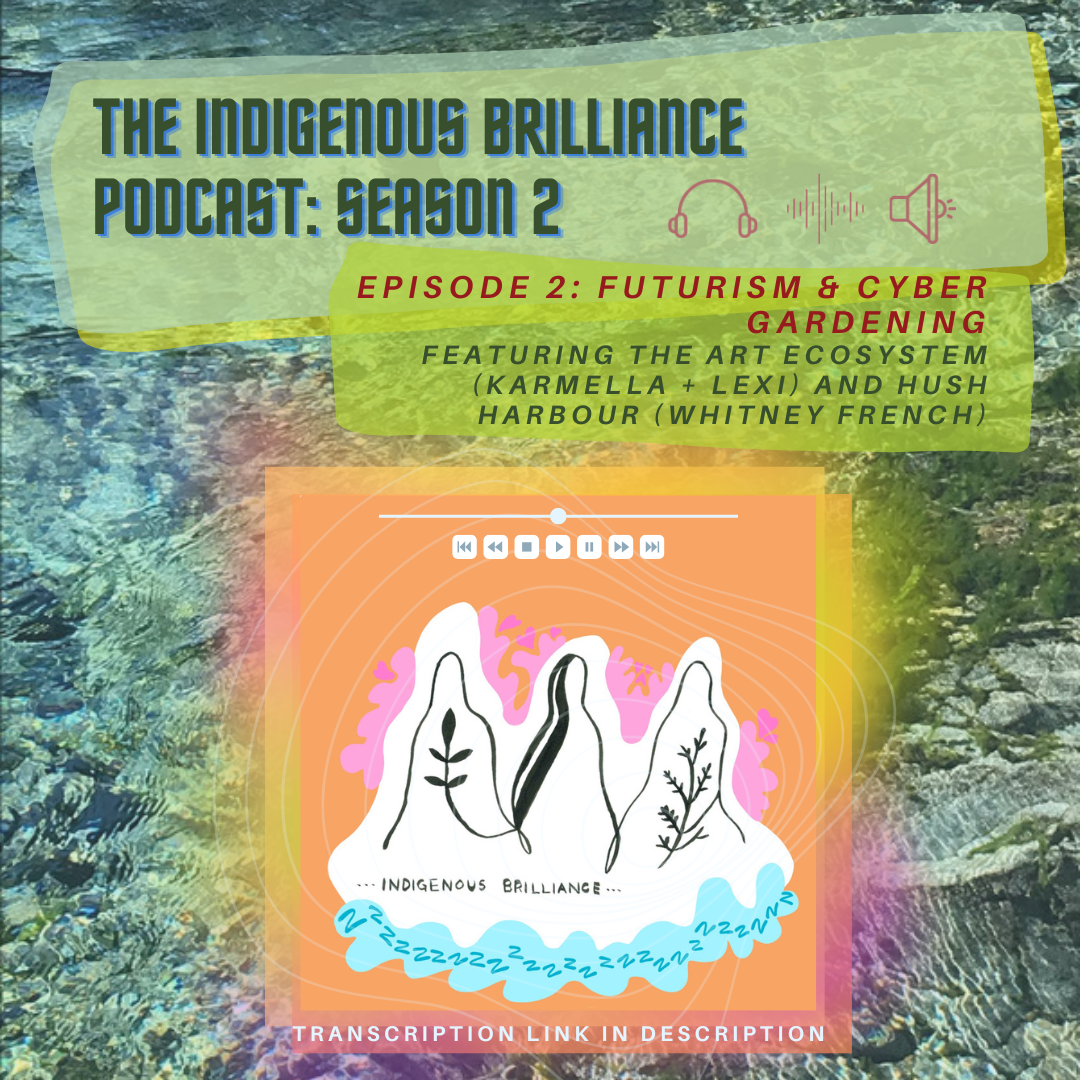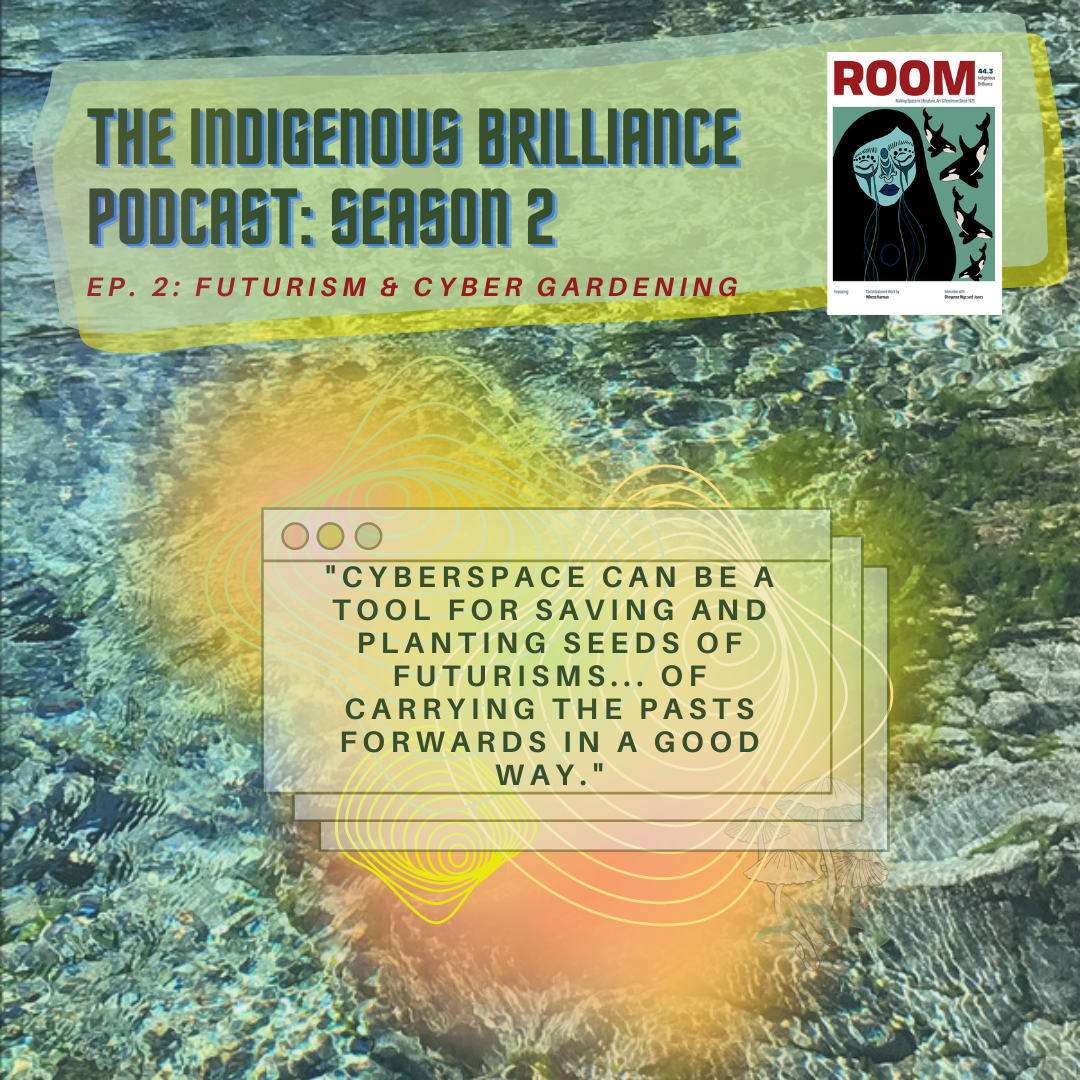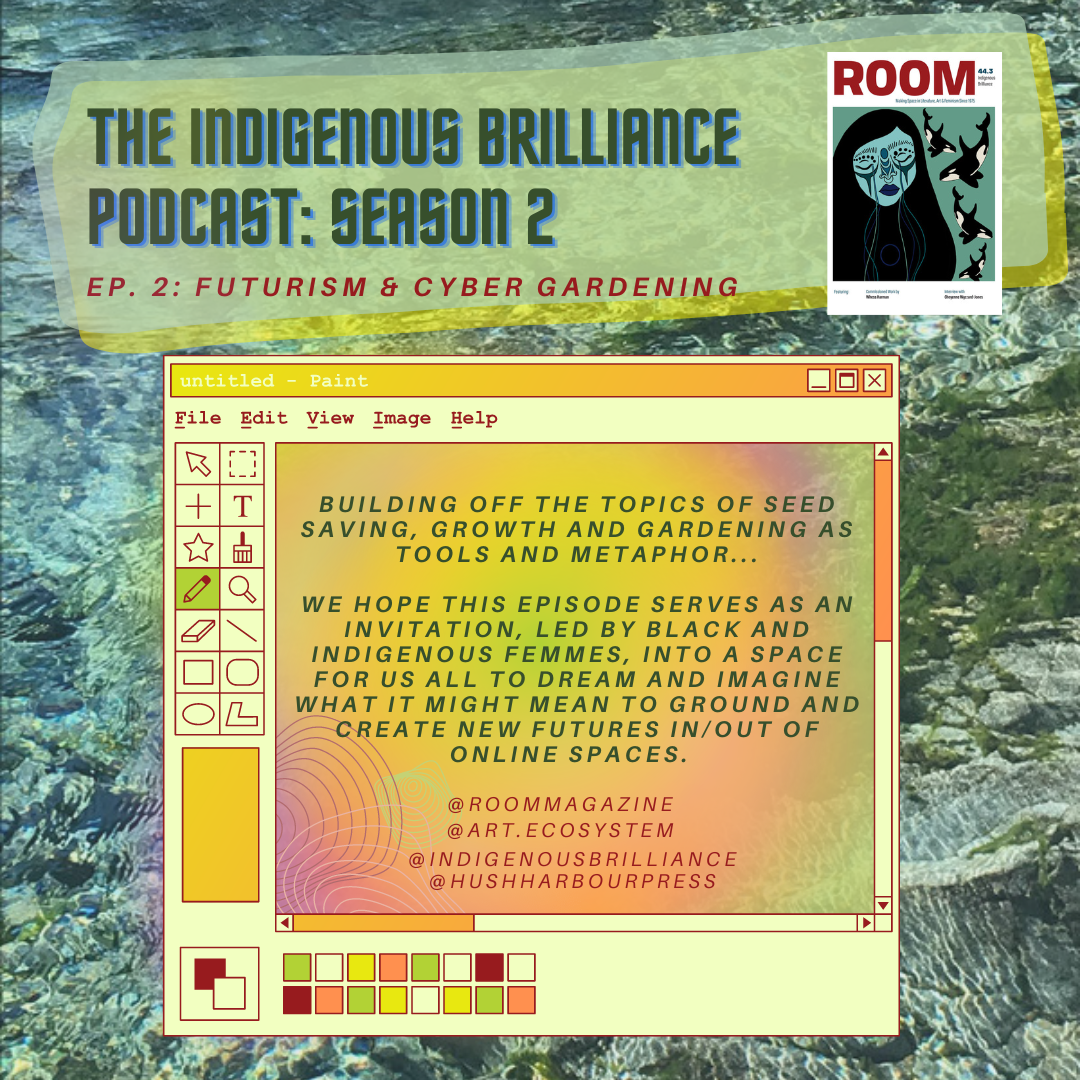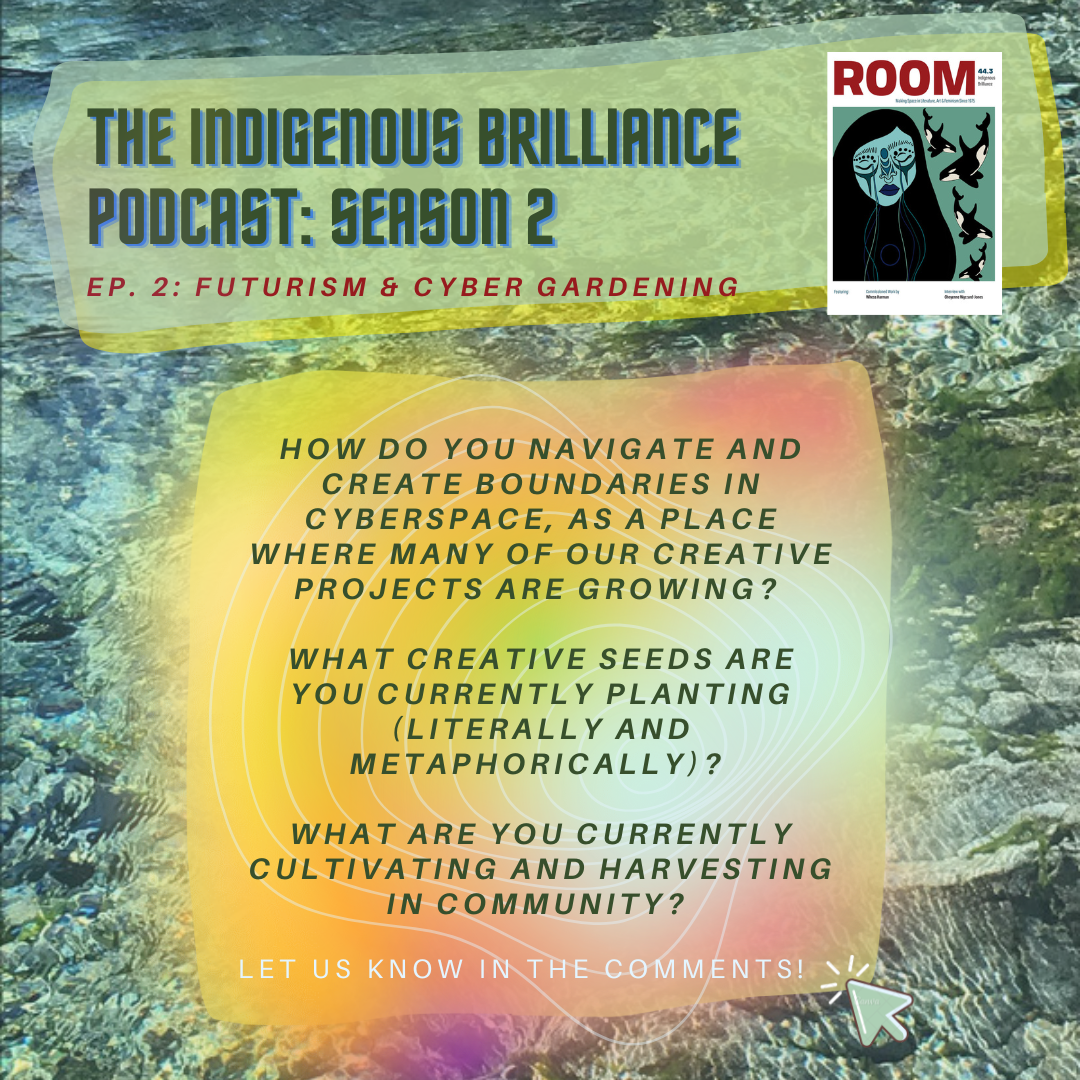 Season 2 Episode 2 transcription: by Tara Preissl
Music by @Edzi'u
(Intro music)
Karmella
Tansi, hi everyone, welcome back to the Indigenous Brilliance Podcast. If you're new here, my name is Karmella, and I'm one of the co-hosts for this podcast and a member of the Indigenous Brilliance Collective as well as the Art Ecosystem. Today, we have our co-host Lexi from Indigenous Brilliance and the Art Ecosystem project as well as our guest Whitney from Hush Harbour Collective.
Lexi
Hi everyone, this is Lexi. Thank you for tuning into Podcast Episode 2, Season 2: Cyber Gardening with Hush Harbour, Speech Sounds, and the Art Ecosystem. This is a discussion led by Black and Indigenous femmes. In this episode, we discuss seeds, growth, and gardening as tools and metaphors for establishing sovereign futures and community spaces which honour and acknowledge our histories and dreams—both online and offline.
In this episode, we ask What can gardening teach us about futurisms and community care? As well as, In what ways do online spaces inspire growth and in what ways does it stifle us? This episode is an offering to ground in imagination and dreaming of better futures for QTBIPOC online and offline.
And with no further ado, I would like to invite Whitney to introduce themselves.
Whitney
Hi everyone! Greetings, what's up? Wagwan. My name is Whitney, and I use she/her pronouns. I am the co-founder of Hush Harbour Press and Co-Curator of Speech Sounds. I am also a middle child, troublemaker, proud Aries, writer, arts educator, editor, and person who likes creative things. That's kind of the best way to describe me. 
I also wanna bring into the space the energy and spirit of Alannah Johnson, who is my other co-founder and who is not able to make it here today, but is the other half of Hush Harbour Press, my ride or die, partner in crime, and partner in publishing as well. Yeah, the two of us make up Hush Harbour.
(Music Transition)
Karmella
I'm wondering if there's anything that you, Whitney, are currently growing that's rooted in the online cyber space.
Whitney
I am currently growing…that is a good question. Yes! Short answer, yes. Yeah, when I think about growing and online space or cyberspace, I really like that term because I feel like cyberspace—it might not be apparent my age listening to the podcast—but I remember when, in  the 90s, cyberspace was a big thing. It's like, yeah I wanna use the internets! Yeah, it really reminds me of the world wide web, of really connecting. Aso often the internet is conflated into social media. 
So, right now, things that I'm growing…I'm really interested in cyberspace being a gathering place in particular, and I know we've had two plus years, or many, many months, or many, many moons of these Zoom spaces. And it's been really—dare I say it—radical, the way that Zoom and its gross corporatized way has transformed into these healings, virtual healing spaces, or spaces where people can gather and cry, where folks can.
I feel like Zoom never thought that this was how they were going to make their platform to be, and I've been to so many spaces, where it's just something as small as doing an accountability check-in with a former student of mine. Just writing and gabbing and talking industry, or something really rich and deep. I've had a fair share of cute Zoom dates online as well. That was really nice. 
So, for me it's more like growing different ways of gathering and kind of seeing what takes root within that. And it's been amazing. Just absolutely fantastic. Things that I have started that I put seed to ground or that other people have started, and I have been invited to water and throw sun on and throw shade on, if it needs it. To let it grow. For me, it's all about gathering spaces. This is not a paid advertisement for Zoom specifically. Whatever the way that we show up in virtual spaces in small boxes and are able to look at ourselves and hear ourselves and reinvent spacemaking online.
Karmella
Yeah! And Lexi, cyber gardening was a term that you either made up or introduced me to. So, do you want to talk about what it means to you and what you're growing online?
Lexi
Yeah! I don't know where it came from. It might have came from the mind, but I think other people have probably said it, you know. It's out there. In that sphere. 
But, for me it was, I guess at a time where I feel like, yeah of course with COVID and everything moving online, there felt like there was a lot of potential and abundance in the online realm. Even though it's kind of a space you have to tread lightly or navigate intentionally, it really felt like oh, we can do something here. And especially with all of the movement leaders and thought leaders on just sharing their opinions online, just early COVID and especially during the George Floyd riots and marches. It was a lot. There was a lot going on online that really mobilized me. So, I guess, a space that can make me feel a part of something bigger and also encourage me to get out physically, get outside, and be with my people. Yeah, I think those seeds started to happen when we didn't really have a lot of other spaces, but it did definitely encourage me to go out there and make real connections.
Karmella
Yeah, I feel like for me, when we started talking about cyberspace as this place where we're planting seeds and growing and tending to these gardens that don't necessarily exist in the physical realm. Or kind of transcend the physical realm. I got really excited because it helped me look at using the internet and connecting with community online in a more intentional way and really seeing it as something that needs that care. And seeing the internet or cyberspace as a place where we can grow things and a couple of projects that I've been able to give that care and attention to have been this podcast actually as well as our Art Ecosystem online workshops that started. Both of those started out of the pandemic and in a time where we were lacking connection, and we were lacking access to community and experiencing an isolation that I've never experienced before and wanting to make sure that moving forward into these times of isolation and spaces of unknown that we could continue to feel connected to something bigger than ourselves and something meaningful and to a place or a space or an energy that is still nourishing and allows us to grow. 
Yeah, so for me, connecting with people and chatting about things that we are mutually excited and ecstatic about has been really awesome to do online. And actually for someone who struggles a bit with social anxiety and overwhelm in public spaces, it's been really cool to explore that online. As well as bringing story into the online space because Indigenous Brilliance started as this quarterly reading series that took place in person on unceded Sḵwx̱wú7mesh (Squamish),  xʷməθkʷəy̓əm (Musqueam), Səl̓ílwətaʔ (Tsleil-Waututh) territories at Massy Books in Chinatown. And when the pandemic took that away from us, it was really awesome to see an opportunity to adapt and to bring those stories and to bring that tradition and that celebration of Indigenous Brilliance into an online space and seeing how many more people that it ended up reaching and how many more people that kind of brought into our community from across Turtle Island and even off the continent has been really exciting. 
So similar to what you've been saying Lexi about cyberspace being this opportunity to ground in community and fuel us to go out and connect with folks and do good work physically in our own communities and in our own neighbourhoods and on these territories. I think that I've seen how planting seeds in cyberspace and starting these really awesome projects online has ignited us to do that work more in person and physically when we can and how we can. It's just shown a lot of adaptability.
And Whitney, I know that you and Alannah are working on the Speech Sounds project, which is kind of rooted online, so I was wondering if you might want to share a little bit about that.
Whitney
Yes, definitely! But wait, quick though back on what you were saying Karmella. So many great things! One, I attended a virtual workshop, I think it was mushroom, mycelium. Oh my god, it was so dope! And as I mentioned before, I'm in Toronto, so right across the country and to just connect in real time, that was really special. 
I was also, at the time, I was on a reserve. I was in Nemaska in Northern Quebec. Cree territory. And I was doing some arts education up there, and it was so cold and there was so much snow, and we're talking about decomposing and there was so many different people from different climates and so some people were like "Oh yeah, there's mushrooms outside!" And I'm like "I am covered in snow and not in mushrooms, but they are sleeping." So, it was really interesting to talk about living material, elements of ourselves and of nature in different climates, with different people, within different time zones, so that was really cool, and I wanted to big y'all up for that.
Another really interesting thing that you said was about gathering and also around…And thank you for sharing and offering around being somebody who exists with social anxiety and having these spaces on the virtual space where you can actually determine how much you can arrive, whether you have your screen on or off, or whether your lying down, or if you have the lighting. You can actually, it's such a beautiful space, and kind of speaks from the direction of disability justice for sure. 
And then another thing that popped up in my head, I wanted to shout out my crew Poetry and Chill, you already know who you are. And Poetry and Chill actually came out of a good friend of mine, Leslie McIntosh in March when all of the world turned upside down. He was just craving community and poetry in a particular way and invited a rad group of racialized folks, primarily Black folks, to talk about poetry and from then, every single Saturday—unless it's a holiday—without fail, we've been gathering every single weekend since the beginning of the early pandemic. And the relationships, the growth, the artistic practice, the love. Sometimes we're workshopping each other, sometimes we're throwing shade at other poets, sometimes we're just shopping for cute eyeglasses and frames. 
And another cool thing that I just want to share and then I'll talk about speech sounds. I'm sorry this is all the seeds.
Karmella
No, we love it!
Whitney
We would go poetry hopping because there are so many cool, virtual events that I wouldn't even know about. I'm the lone Canadian in that crew. Most of the folks are from the States. And so, like, "hey do you want to go to this cool virtual event?" And then we would have, we would go on our Zoom, we'd chat it up, and then we'd hop to a poetry event, and then hop back and have a really cool breakdown. I think those are the kinds of relationships that only cyberspace can offer and that's the kind of gardening. You want to think about hopping, it's pollinators, and I'm learning from all different types of writers and poets and craft makers and artists. And it's cross pollinated my own artistic practice. If I only stayed in my local realm, I wouldn't have access to these things, you know. And so think of all the cool fruit that will come from all of that really cool splicing work. So, I just wanted to thank you for sparking all of those wicked cool ideas.
Karmella
Awesome!
Whitney
Yeah, I wanna talk about Speech Sounds. I love Speech Sounds so much. Yes! But before I talk about Speech Sounds, I do want to talk about Hush Harbour.
(Music Transition)
For those who do not know, Alannah and I co-founded Hush Harbour June 22nd in 2020, which is Octavia Butler's birthday. So, in the depths of the pandemic. In the wretchedly violent visible anti-Black summer. Every summer is really anti-Black, but that one in particular, we birthed a press. It's a Black, queer, feminist press. I love to say this on the air because I really want someone to correct me. I believe we are the only Black-owned, for profit, Black, queer, feminist press in the country. I am saying that because I want to be challenged on it, and I'm also saying that it sucks to be the only one. And my future hope is that there are multiple Hush Harbours and multiple spaces for Black ownership in the literary world, but that's my baby spiel.
And Speech Sounds is a special project from Hush Harbour because Hush Harbour showcases storytelling from Black folk period. A very simple mandate. And Speech Sounds shows light and care and love for not just written storytelling, but for oral storytelling traditions. And the name Speech Sounds is a short fiction piece by Octavia Butler. I don't know if you're noticing, but I'm a little obsessed with Octavia. And, yeah, so Speech Sounds is a five part audio series. It's collecting sounds, stories, soundscapes, honouring the tradition from Black, African diasporic folks, wherever we could find them. And the episodes have a bunch of different themes. Anything from spoken word to queerness, radical queerness, unapolagetic queerness to Black aesthetic and Black joy as well as process. Specifically, artistic process. 
And I do want to chat just a teeny second more about process because so often as Black artists and creators, especially now, a lot of folks who may or may not have been allies before be frontin like they allies now and want content or songs or music or art in general or voices in general from Black folk and they just wanna consume it, and there's no critical analysis. There is no discussion about process. It's just like, you're Black and you're making art, ain't that hard. And I'm also a human being, and I would love to talk about my artistic practice. Can you give me space for that?
So, that is definitely—in a nutshell—Speech Sounds. And we have some incredible artists, a fantastic group of writers who are on board, a dope group of researchers. It just, I'm just, it brings me joy. I love Speech Sounds. I was just writing emails before this call, and I'm still really happy just writing Speech Sounds emails all the time. Yeah, that's our project, and we're hoping to—I will say it—we are going to release it in September 2022.
Karmella
We're so excited about it!
Whitney
Thank you!
Karmella
Speech Sounds is like your little baby of a project that I think really aligns so well with the Art Ecosystem and our ethos and our love for Octavia Butler and for our celebration of Black voices and Black people. And also I feel like the way that we're both creating the spaces that we wanna see and filling in those gaps that we're noticing and experiencing intrinsically. And speaking that into the world and then making it happen and sharing it for other people. So, we love to see that you're doing that in cyberspace and in your community and on the territories that you live. And that somehow we magically ended up meeting each other online. And that we get to celebrate your work and watch your work grow. And do some growing together.
Whitney
Yes! This relationship is a seed, right? We seeded this online. I haven't met either of y'all, you know, in the flesh, as a flesh bag, in the same space. But I'm getting such beautiful vibrational energy. I don't know, this is maybe like our fourth or fifth time kicking it, chatting, talking like cool stuff, real stuff, political stuff, so yeah I just want to name that. Give thanks.
(Music Transition)
Lexi
Oh yeah, this is the question I wrote! How do you navigate and create boundaries in cyberspace as a place where much of your creative projects are growing?
Whitney
Ooh, I like this question! I am in a process of flux around how I feel about being visible or not visible online. It's interesting because I'm not very active on my social media platforms, like at all. So when people are like "oh let me, are you on Instagram? Let me plug you!" That is something for me, that, it's a boundary, right? It's a boundary in terms of how much I want to be seen at this moment in time. And it also helps me grow. And helps my brain work in a particular way. And, what I am excited about—cyberspace in general—is really what can happen in between those things, like when I'm navigating, let's just say, like my writing practice. This year, the word of the year for myself was collaboration. And navigating cyberspace and thinking about my artistic practice, I've had beautiful opportunities to do collaborations with people who don't live where I live. Or collaborations with folks who are in different artistic fields. And that, to me, is deeply exciting. Everything from having a Zoom call or creating sacred space as I mentioned earlier to just having a shared Google Doc that is just going and going and going and going with ideas and clips and da da da. Like the notes y'all sent me. Ooh this is a nice, this is a nice little interaction. I love what's happening here.
I also do mentorship as well with my mentees. I met my mentee last week for the first time. We've been working together for two years around our writing process and yeah, there's just so many fantastic ways that I can weave between what is available and possible within cyberspace and thinking about creative works. And even bringing it back to Speech Sounds. It's hearing different sounds. Like, if somebody is gonna send me an audio clip, and I'm thinking through and then we can have these really kind of asynchronistic conversations that actually frees up a lot of space for me to live my life and approach it in a time that feels right, if that makes sense. As opposed to if…there's a beauty to being present with somebody who's directly in front of you. And there's also a beauty of I'm gonna give you some really cool ideas that I thought of and then I have to go to the farmer's market, or I have to go, you know, hang out with my family, or I have to care for a friend right now. And then I can come back and there's new ideas that arise, and I think those cyberspace, and the internet in general, allows for that to happen where you don't actually have to have access to me all the time. And when we do have access to each other, it's actually quite full and lush.
Karmella
That's beautiful. I love that you said flux cause when I was thinking about how to answer this question, I was thinking about adaptability, which is a word that now always reminds me of Earthseed and Octavia Butler and Parables and this openness and acceptance of constant change. 
And so, when I think about boundaries, I think of all of my boundaries in that way. That they are always changing, they're adaptable and speaking to each situation that presents itself to me. And so with cyberspace and the internet being this place that is endlessly available and constantly there, I do sometimes struggle with my boundaries. 
But a practice that I have is just grounding in how it feels to be online and listening to when it feels good and leaning into that and enjoying it. And really experiencing the joy of sharing a Google Doc or, Lexi and I are super into colour coding all of our things and that brings a lot of joy to me. Or playing around with fonts online and being creative with the way that we're working in an online space because I think it can be fun and maybe that's just my Virgo slipping out, but I do really love it. Like spreadsheets and Zoom, emails even. There's so many ways that we can, I think, find joy in the process of working in cyberspace and making it a creative place. 
But also noticing when it doesn't feel good. And allowing myself to step back and take a break. And I love what you said about okay, if I'm doing a certain number of hours online then after I'm going to go outside and do something that feels really good to kind of fill the cup again. And it's all about balance. And sometimes things fall out of balance. And I think through this pandemic because almost all of my work has, all of my work and almost all of my creative projects have rooted themselves in cyberspace. I've had to learn adaptability and how to fill my cup outside of the internet. And also to be very forgiving of the fact that yeah, sometimes I push it too hard. And sometimes I'm not firm enough with my boundaries online. But we can always come back from that. There's always a lesson there. So, yeah just being really soft and patient and adaptable with my boundaries in cyberspace and just in general has been something that I've been practicing.
Whitney
Yeah, I like what you're saying too because I'm hearing there's some slippage too, as well.
Karmella
Totally!
Whitney
But, I love that you offer yourself that grace. It's like, oh, I didn't set the boundaries that I wanted to, but come back to it. And it just calls to mind a baby promise I made to myself, which is unless it's raining—and this is an exception because my laptop is not fully charged—but I try my best to take my calls outside on my little porch. People really like to engage with that. They're like "There's a squirrel behind you!" And I'm like "What?" Cyberspace and IRL are not mutually exclusive, right?
Karmella
Totally!
Whitney
Or I'll be taking a call, and it might be a stressful call, but they don't know that I'm literally, my fingers are just grazing my tomato plant, or kind of, I'm fingering some thyme, just between my hands to stimulate the new smell if the call is more stressful or the person on the call is in distress, and I need to keep my nervous system down, right? And so, we can do that in cyberspace while interacting with, you know, the garden in cyberspace and the garden in the real world. Yeah, thank you for that.
Karmella
That's awesome! We love that fusion!
Lexi
That was beautiful. Yeah, more than anything I feel inspired by what both of you have said. I definitely am on the slippage side of things because I have a lot of fun online sometimes. There's some great memes out there that really give me life and remind me oh, wait a second, I'm not the only one thinking this. So there's little bits and pieces of cyberspace that really speak to me and then there's just a lot that also makes me feel like, you know, I've slipped into a blackhole of toxic media. And it can feel like it's a slippery slope. But at the same time, I have way too much fun on work calls with Karmella because we have a hoot, and we make documents like they said, with colour coded things, and I always make sure that when I write them a note, I'm not using proper English and everything's spelled wrong and it's a place to play and be creative and yeah, definitely value hearing that when things get stressful for you Whitney, you find ways to incorporate more embodied experiences online, and I love that. And definitely with this weird space that we're in where it doesn't always feel good to be there, but we sometimes have to be there, or it's also, it offers us a bit of both. Yeah, I definitely want to invite a little bit more of embodied practice into that online realm as well as really leaning into the things that are fun. And maybe taking a cue from when it's not that fun and it's not doing good things for me, you know.
(Music Transition)
Karmella
So, I wanted to talk a little bit about seed saving and sowing seeds. Not only through this metaphor of cyberspace, but also literally and physically. But before we do that, there's this little story that I wanna share, and it comes from a piece titled The Seeds of Survival. And we can link it in the description for this podcast. It's published in the New York Times, and it shares this story of this person named Kathe Hambrick Jackson, who is a Black woman who started the River Road African American Museum in Louisiana. And this is a place where she gardens in community, and she grows food that would have been familiar to slaves and Black people who were on those territories and working on those lands in the past. And she carries forward those stories of early Black farmers on those lands through early childhood education, which she does based out of this museum. And she talks about the importance of seed saving as a futurism and an act of cultural preservation. 
And so I would like to invite us all to just meditate on this idea of seed sowing and saving and sowing seeds through times of slavery as a form of ancestral futurism and then think on the ways in which colonial displacement from land forces us into cyberspace and into this place where we can practice our own seed saving and cyber gardening through sharing stories and connecting in community online as future ancestors. And just imagining in the future, people looking back on podcast recordings like this, or on projects like Speech Sounds or on a recording of an Art Ecosystem workshop, or on our Instagram accounts, or on our weird little Google Docs.These are all artifacts that will be stored in cyberspace forever. 
So, maybe this is a bit of a stretch, but I'd like for us to indulge in the idea that cyberspace can be a tool for saving and planting seeds of futurisms, of carrying the pasts forwards in a good way. And that this idea comes from the physical realm. It comes from this practice of literally saving seeds. And that acknowledging that slaves that were stolen from the African continent took seeds with them and sewed them into their jackets and stored them in their hairs and brought them to these lands. And that those seeds are still growing plants today. That still connects us and other Black people of the diaspora to home.
So, just, I guess, wanting to ask the question of in what ways do you see seed saving and sowing seeds in an online space as sacred and as relevant and how does this metaphor speak to you? What does it make you think of? What did you think of the article? Just opening that to the two of you.
Whitney
Oh my God, okay, so you sent this question in advance, and then you said it, and then I got goose pimples all up and down my arm. It's so rich. There's so much there. I will begin with the article, which was boss and so dope. What a practice. What a practice. And what a beautiful story. I think there was a moment where, in the article there was a question: if you were going to free yourself and you're going to get out of the plantation, what would you take with you? And I really appreciate the phrasing "if you are going to free yourself." I think I just sat with that and meditated just with that for a long time before actually answering the rest of the question. That really calls into mind, liberation is an act that we do for oneself. For ourselves. And we're…I'm getting emotional thinking about it as well because it's connecting to ancestry, it's connecting to emotional things that are happening right now in my present life. This idea that we have the agency and the power to find our own freedoms. To also see collective freedom. So even just… woah, chef's kiss right there. You are going to free yourself.
I did mention my Poetry and Chill group, and we have a lot of poetry challenges like write a poem every day for April, and then we have a shared Google Doc and we drop it in there. We can read each other's words as the months progress. And one session I ended up working on this piece, actually generated a piece about Harriet Tubman in particular. And it was thinking about her and honouring her through a lens of environmental justice around her root knowledges, around her navigational skills, around her keen awareness of the land that literally granted her physical freedom from bondage. And the ways that the land can grant freedom or even questioning and challenging the ways that can look like, particularly for me as a Black person who lives in Canada. And then this person who helped free so many enslaved Africans and brought them to this place, which was then, well that is the same place. But then what does freedom look like? Do I feel more free in this so-called promised land that people were coming to? There's just so many things to untackle, and I know I'm getting a little bit off topic, but I think things like that I'm interested in sowing and seeding that happened in cyberspace, in conversation with friends. Definitely not the first person to think about this. I'm sure there's other folks who kind of unpack those things. 
And then when you mentioned about this podcast, and I'm thinking about time capsules, right? How do we archive, lowercase A, the important crucial stories that we have? That's the beauty of cyberspace and technology. We are all micro archivists, you know. And it redistributes power of whose stories are important. All stories are important. And so now we have all these funky little tools, and we can be butterflies and bees and pollinators and sharing and spreading our stories all over the place. And sowing those. 
So, yeah there's sowing and there's saving. The saving in cyberspace, it sounds really silly, but I have a very basic Rich text file that's just called Tabs on Tabs. And it's just a culminated list of incredible pieces and articles and bodies of work that I see in a tab during a work day, and I don't have time to read it, and then on a Sunday I just open up Tabs on Tabs. And then I just sit down with a nice cup of, you know whether it's dandelion root tea—I'm really into it right now—or a nice cup of earl gray, and I just read these tabs of these seeds that I've actually saved throughout the week or weeks and then I just sit in it and feel nourished and recreate a space where I can kind of plant those ideas elsewhere.
(Music Transition)
Karmella
So yeah, I think we wanted to talk a little bit about futurisms in honour of Octavia Butler and our shared love for that and to kind of end on a note of visioning, and celebrating, and dreaming up futures, which is what I think cyber gardening and planting seeds is all about. So before Lexi, before you ask that question, I just want to share a little quote from Thinking Abolition, which is an Instagram account that I'm a really big fan of. And the quote says "In order to build the movements capable of transforming our world, we have to do our best to live with one foot in the world we have not yet created."
Lexi
Wow, yeah. So with that, our next question is how do you balance an active imagination and ability to practice dreaming up futurisms while also acknowledging the reality of our current culture, communities, and lives, which we aim to transform and grow into something better.
Whitney
Yes. That is a spectacular question and thank you for crafting that! And thank you for the quote to ground us in this question. It's a hard one. Imagination, that's really the crux of this moment right now. When we stop imagining, we stop futuring. And rebuilding a new world, futuring, starbursting. All of this is beautiful and generative and sounds cute, but it takes a lot of energy. Especially being a being that navigates the world with multiple identities and not all of those identities are respected and acknowledged. It is hard to be in that material world and also be in a space of dreaming. Sometimes your curiosity is just not there. Sometimes the energy is not there. 
And I am in a process around that balancing. Trying to figure out how do I balance my future work? Something that I think about is radical honesty. Like, how to be really honest about where I'm at, where I'm moving, where I'm growing. And in true Octavia Butler style, I have a Parable of the Sower quote to match the other quote. And it's from The Book of the Living and it is "There is no end to what a living world will demand of you." And that is some real shit. The living world will constantly ask these things and ask these things and ask these things and how do we even cultivate and find space to be inspiring or to be uplifting, or you know, even if we can't picture a future if we're in a state where we can't even picture our present or can't even live through our present. 
So, I have to always start with being honest where I am. I have to recognize the spaces I feel safe in. I have to balance listening to my intuition and offering myself and others around me grace. I tend to read words that nourish me. I was listening to a podcast called Make Art Not Content, which I just fell in love with that title. And one of the episodes was talking about talking to strangers and that your Uber driver is your guardian angel, which I thought was a such a cool concept, but also very real because we're so stuck in our own perspectives. Even as community organizers, even as artists with like a radical feminist praxis, even as human beings who we might share some identities, but not all identities and yeah, you just gotta get out of our own perspectives. That's how imagining happens. When you ask what ifs? When you ask how comes? When you ask from a place of awe and curiosity and wonder as a place from I am asking this question cause I think I know the answer. I am asking this question because I want to acquire this knowledge and acquire this answer and use it for X, Y, and Z. And a very kind of lineal, productive stream vs. this can go in multiple directions. So, yeah talking to strangers. I met some new folks at the farmers market yesterday that I've never met before. That was really cool.
And then also when I'm honest with myself, when I literally don't have the space to do anything, it's okay to do nothing. That is strangely or not so strangely enough a part of fulfilling my ancestor's dreams is being a Black femme person resting. Period. Cause I know my Mama didn't have a whole lot of opportunity to do that. And I definitely know my grandmother didn't or my great gran so much so and so it is also okay. And to kind of, you can find space when you're in that resting dream space. Yeah, we can't have a liberation exhausted. It's not gonna work. I feel like that's a Nap Ministry quote. I'm just pulling from the brain. Yeah, radical honesty is the thing, at least for me.
Karmella
I love that! Yeah, I really appreciate futurism and futuring being mundane as well as being this brilliant, awesome, exciting, new thing that it can also be. Like you were saying, going to the farmers market and having a good conversation. Resting. I feel like just finding joy and nourishment and energy in the mundane allows us to maintain a space of grounding and safety and security to be able to dream of futures and then to work towards them. 
But, coming back to that balance. It's all about balance. That balance is what allows this work and this existence to be sustainable. And it's what allows us the spaces in which we can do that futurism work. And that dreaming work. Yeah, and the way that this conversation is wrapping up really reminds me of our last episode that we recorded Lexi, which was all about love as rest and how it's so important for us to love ourselves through rest, so that we have the energy to carry forward and to grow. And to actually fuel ourselves to burst into these dreams and these visions and these futures like we all want so badly. And to also enjoy the process of resting and of feeding ourselves and giving ourselves the nutrients we need to grow from these little seeds to these big beautiful plants and gardens.
Lexi and Whitney
Yeah!
Lexi
Oh, sorry!
Whitney
No, I was just saying yeah!
Lexi
Yeah, it kind of reminds me that the seeds of rest are for our future generations. And for those looking at us, yeah that maybe don't exist yet and see us as examples, or you know, we're teaching a new practice, and we're, and that's something that was passed to us, and we have to. It's radical, right? Of course. 
So, yeah I'm really grateful to be able to share this slow space with both of you and also very excited to hear more stories with Speech Sounds. And that practice of simplifying. Like you said Karmella, not everything has to be new. And oral narrative and storytelling has happened since the dawn of time. 
So you know, this is one of those going back and slowing down and yeah we're gonna be imagining and we're gonna be sculpting these new futures, but we really need to keep those seeds safe for the things that got us here today and nourish us. So yeah, thanks.
Whitney
Thank you both. This has been such a—I wanna find the right word. This has been a rooted and joyful and chill conversation.
Karmella
Absolutely! That's awesome. When Lexi and I were thinking about…we ask ourselves this question before we record an episode. What do we hope people leave feeling or having experienced? And we landed on hope and growth, and so your remarks there really land. And I think it's been a conversation that has left me feeling really hopeful and that hope is so necessary to allow us to grow. I feel like I've grown through listening to both of you, through learning with both of you, and I'm leaving with a great sense of hope, and I hope that everyone else is as well.
(outro music)