Tansi!
In our final week celebrating Black History Month with the Indigenous Brilliance Collective and Room Magazine, we are excited to share a short, and by no means exhaustive, list of books and media (including Instagram accounts, films, artwork, music, and podcasts) by or featuring Black/Afro-Indigenous writers and creatives. This list comes to you at the close of February and Black History Month, as the work to educate ourselves and show up for Black folks should happen year-round.
Be sure to check out the screening of award winning film Where We Meet by Karmella Cen Benedito De Barros and Lexi Mellish-Mingo screening online February 28th at 1pm (PST), and look back at all of the brilliant content that Karmella Cen Benedito De Barros has curated all month:
– Amber Starks on Blackness and Indigeneity
– Nic Wayara on Black and Indigenous Solidarity
– What is Hogan's Alley?
– Interview with Where We Meet film directors Lexi Mellish-Mingo and Karmella Cen Benedito De Barros
– What Does Afro-Indigenous/Black-Indigenous Mean?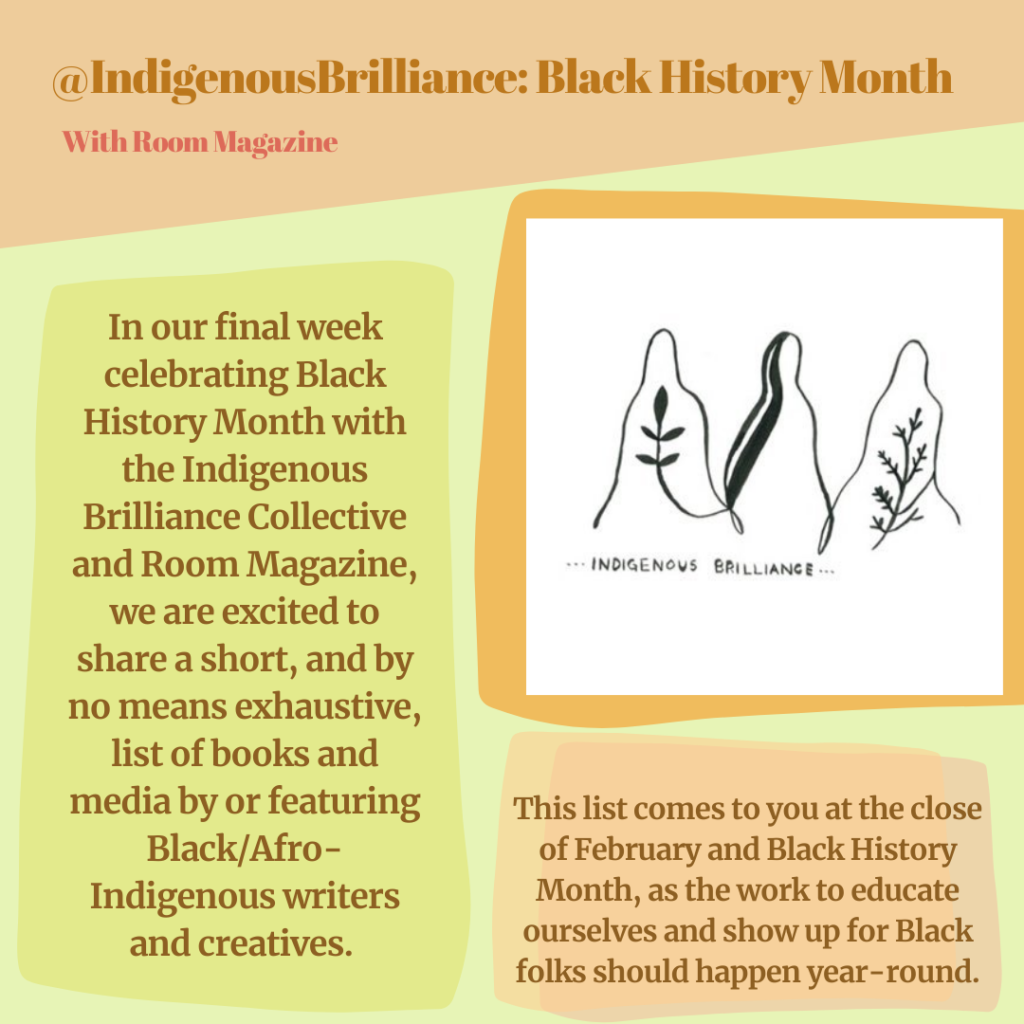 Books
Confounding the Color Line: The Indian-Black experience in North America by James F Brooks
Black Indian: A Memoir by Shonda Buchanan
Who's Afraid of Black Indians? A poetry collection by Shonda Buchanan
There's Something in the Water: Environmental Racism in Indigenous and Black Communities by Ingrid R G Waldron
Black Indians: A Hidden Heritage by William Loren Katz
Creole Indigeneity: Between Myth and Nation in the Caribbean by Shona N. Jackson
Ties That Bind: The Story of an Afro-Cherokee Family in Slavery and Freedom nonfiction by Tiya Miles
Crossing Waters, Crossing Worlds: The African Diaspora in Indian Country nonfiction edited by Tiya Miles and Sharon Patricia Holland
The Cherokee Rose: A Novel of Gardens and Ghosts historical fiction by Tiya Miles
Black Slaves, Indian Masters: Slavery, Emancipation, and Citizenship in the Native American South by Barbara Krauthamer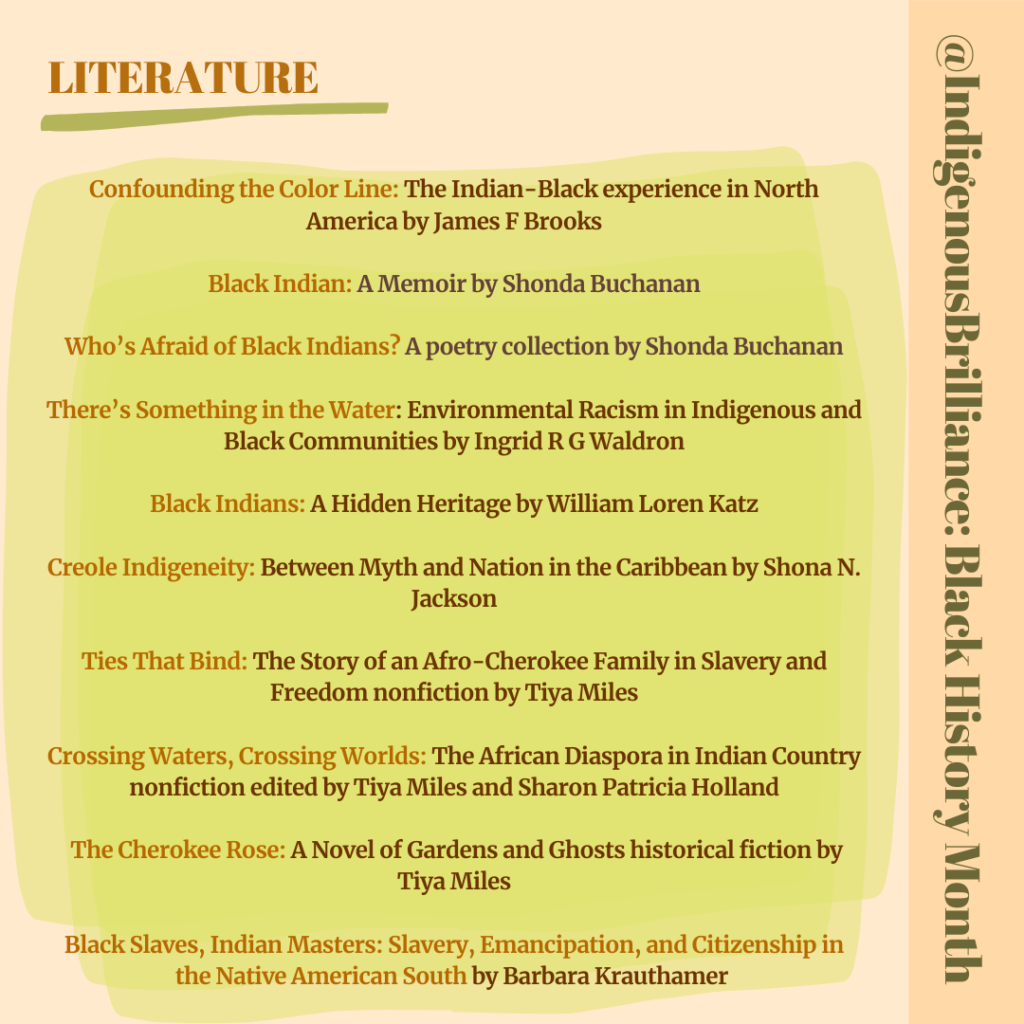 Instagram Accounts
Afro Indigenous Kin @afroindigenouskin created by @shaneseanne Mukaade Anishinaabe Kwe (Afro-Indigenous person) & @wapahkesis Jamaican and Nihithaw (Woods Cree) 
Amber Starks @melaninmvskoke
@blackindigenousliberation – online activism and educational content 
Black-Indigenous Series with Cheyenne Wyzzard-Jones and NASRA on the (@insolidarityofficial) Instagram 
Larissa Crawford @larissa_speaks
Resistance Education @resistanceeducation
TataBele @afrobrujx 
@thelandbackbitch – Informative meme page by Black Indigenous 2S curator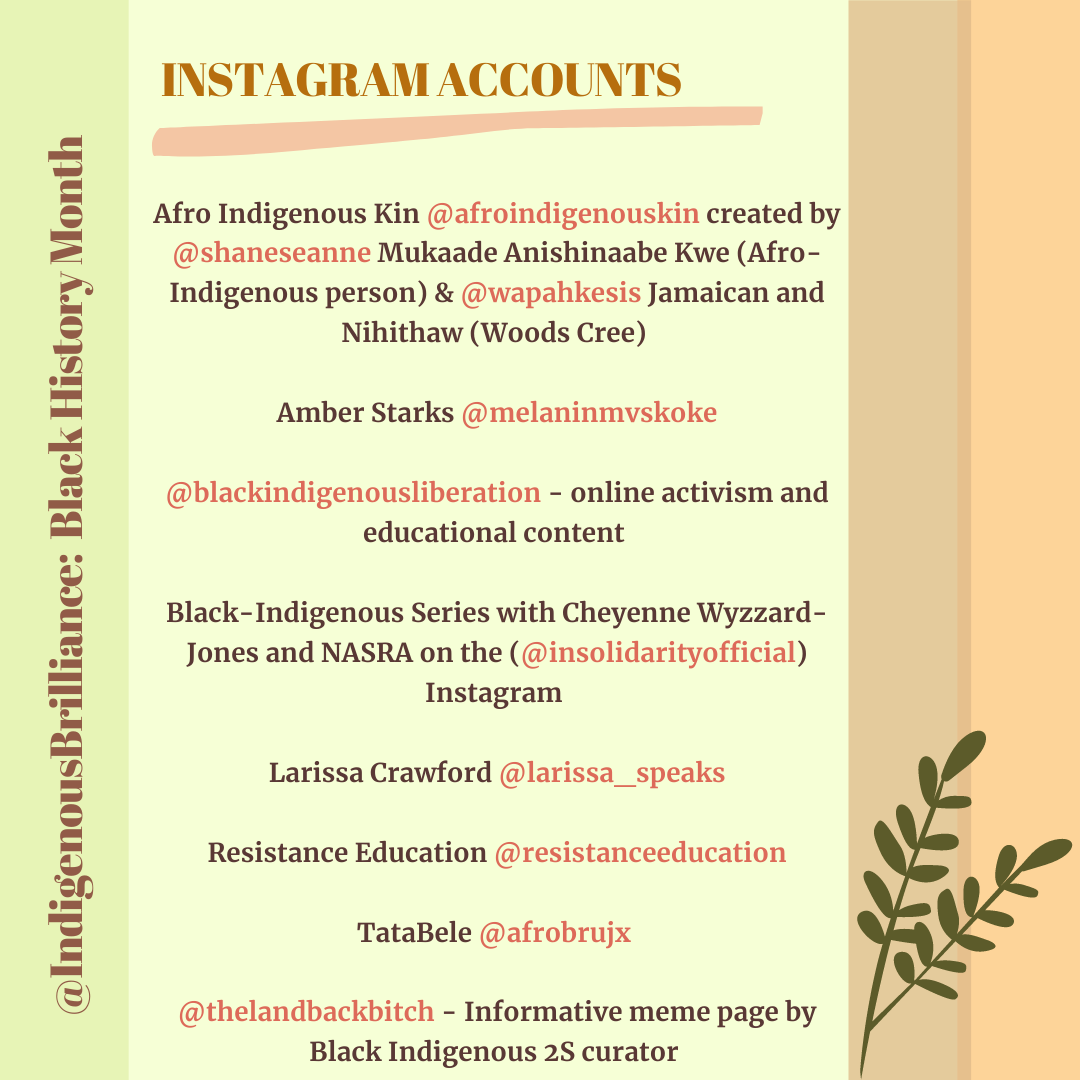 Films, Artwork, Music & Podcasts
The Black-Indigenous/Afro-Indigenous Experience by Native Arts and Cultures Foundation
Jihan Gearon on Blood Quantum in Indian Country
Afro Native Narratives: Documentary Project (ongoing) by Macha Rose, Michael Santiago, and Adrien Heckstall in partnership with I Love Ancestry
The Forgotten Slavery of Our Ancestors 
Visual installations by Natalie Ball 
Music by Martha Redbone
Music by Maimouna Youssefe "Aka Mumu Fresh"
Medicine for the Resistance: a podcast hosted by an Anishnaabe kwe and an Afro mystic looking at life through #Black and #Indigenous eyes.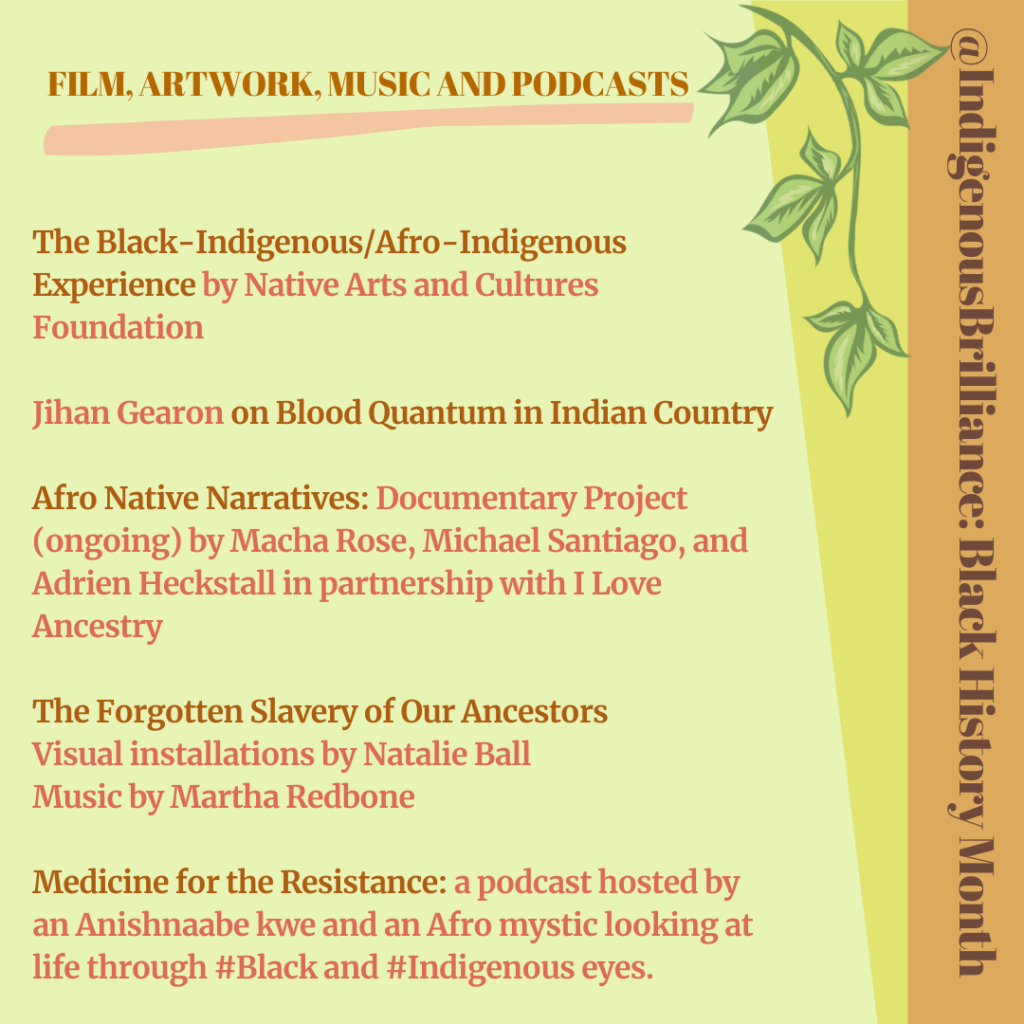 — 
This list was created with the help of the Indigenous Brilliance collective and in particular Karmella Cen Benedito De Barros, Patricia Massy, and Jessica Johns.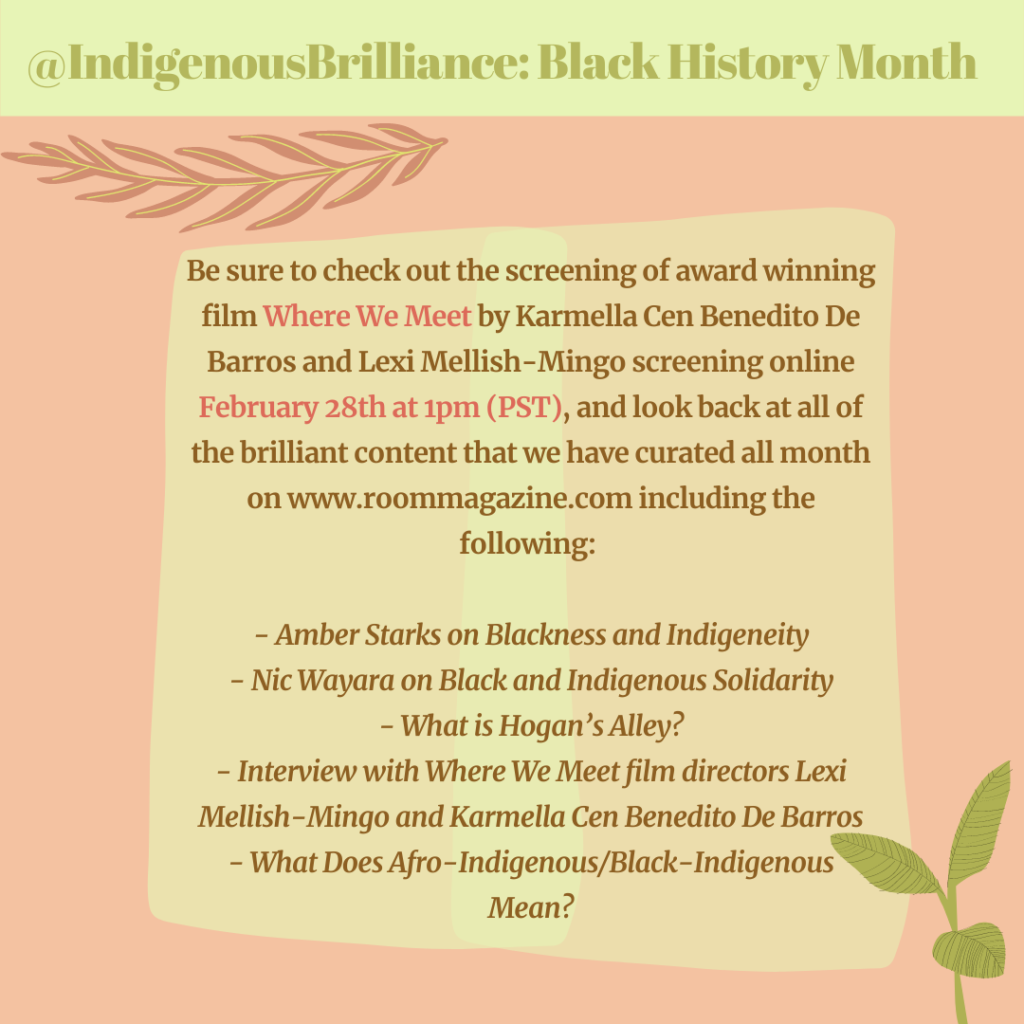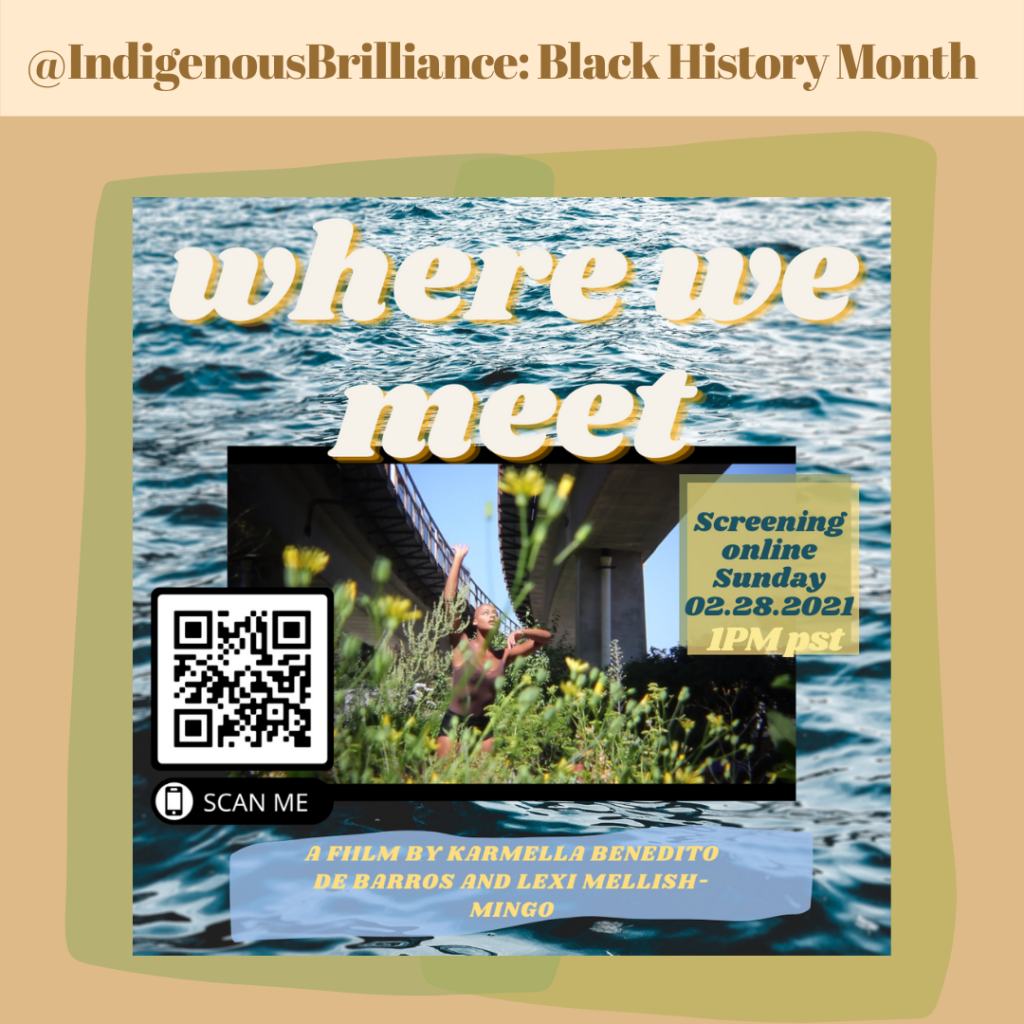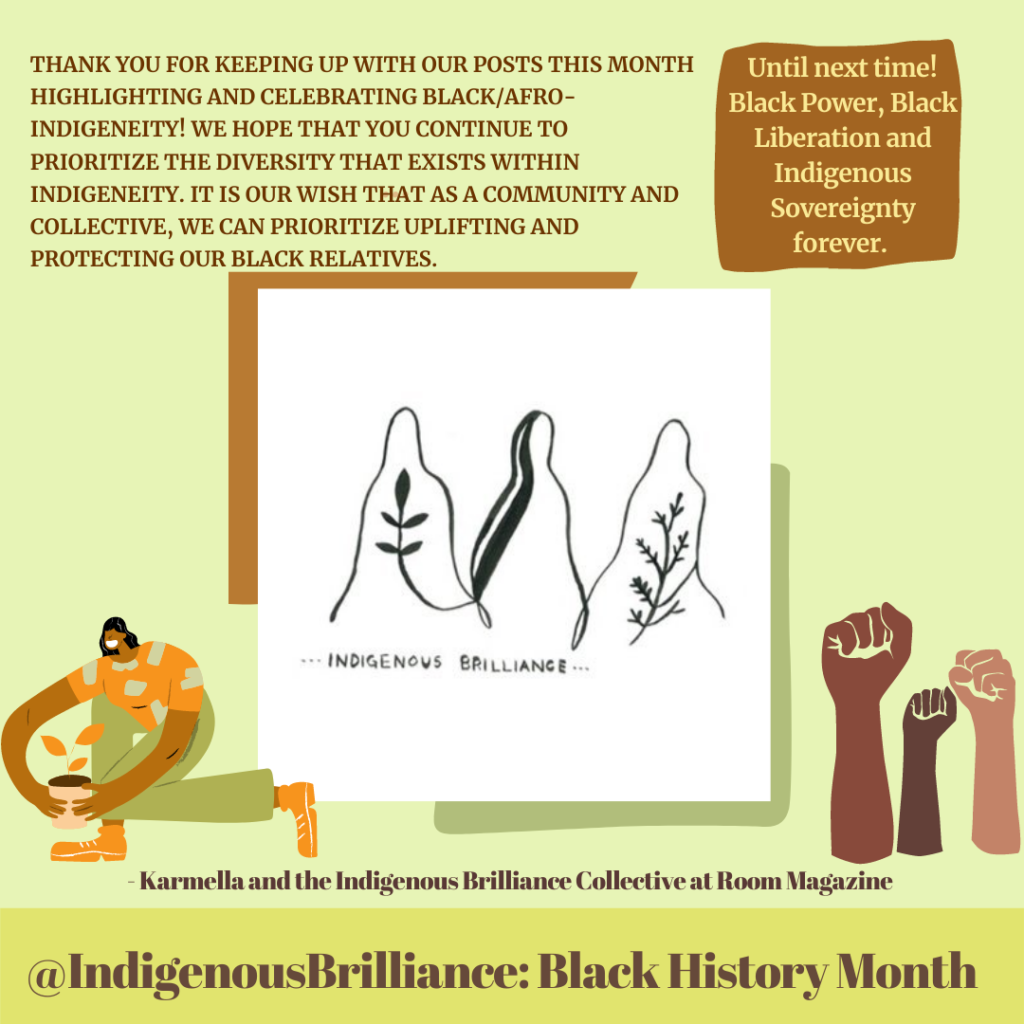 Thanks you for keeping up with our posts this month highlighting and celebrating Black/Afro-Indigeneity! We hope that you continue to prioritize acknowledging and understanding the diversity which exists within Indigenous identities and worldviews. It is our wish as a collective that you, our reader and community, will commit to the continued uplifting, protection and celebration of our Black relatives today and everyday outside of Black History/Futures Month. We are grateful for your time and attention and wish you a beautiful March and Spring season.
Until next time! Black Power, Black Liberation and Indigenous Sovereignty forever.